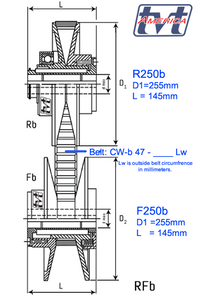 Berges® Spring Tension Pulley type F250b for use with wide belts type CW-b 47 and Bearing Control Pulley R250b.  Diameter of 255mm with length trough the bore 145mm.  Die-cast aluminum pulley faces with steel slide hub with thrust bearing on one side.  Castings maybe used on other series of pulleys, castings numbers on pulley faces are not the part number. 
    Maximum shaft diameter 42mm with standard bores listed for sale, alternative bores are available with 6-8 week ARO lead time (order Custom  bore and TVT will contact you to clarify dimensions).
INTERCHANGE: Suggested replacement for Discontinued Lenze: 11.213.25.920, 11.213.25.921, 11.213.25.926, and 11.213.25.928.   Please note:
1.   When interchanging Lenze to Berges we recommend replacing BOTH the Control  (Bearing pulley) and the Tensioning (Spring pulley).
2.  Lenze length through bore is 160mm, Berges 145mm.
3.  Lenze Diameter 252mm, Berges Diameter 255mm (3mm greater diameter, 1.5mm in radius).
4.  Lenze 11.213.25 and Berges RF250b use 47mm wide 28º Variable Speed Belt.  CW-b 47.  Lenze belt lengths are measured by inside diameter "Li" in millimeter, Berges belt lengths are measured by outside diameter "Lw".  Thickness of belt is not relevant to interchange or performance, these may vary with production lot and are not critical measure. 
TVT Berges Catalog (PDF Download in new Window).
11.213.25.920
11.213.25.921
11.213.25.926
11.213.25.928